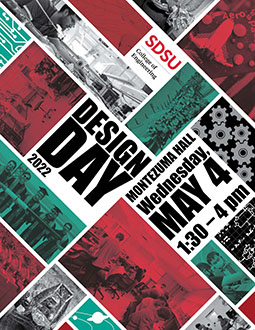 Please save the date for our Spring 2022 Virtual Engineering Design Day event which will be held in person, on Wednesday, May 4, 2022, from 1:30pm-4:00pm. The event will be held in Montezuma Hall. Design Day Booklet 2022 (PDF)
As the event approaches, we will be posting the Aerospace projects that will be showcased at the Spring 2022 Engineering Design Day event, along with a project picture and description, a YouTube video link to students' project presentations, and additional information about the project. YouTube videos will be linked to the title of the project. Posters are linked to the thumbnail image of the project.
Please visit our College of Engineering Design Day website, which has an archive of all of our Engineering Design Day events.